1. What is ChatGPT?
Basically, ChatGPT is an AI-based linguistic model created by OpenAI (OpenAI, LLC., San Francisco, CA, USA). It released on 30th November 2022. Surprisingly, ChatGPT has over 100 million users within the first two months of its launch. Now, more than 13 million daily visitors as of 2023. In January 2023, ChatGPT crossed 100 million users, making it the fastest-growing consumer application in a short period. The earlier release of ChatGPT was based on GPT-3.5 [1]. As the popularity of ChatGPT is continuously increasing, So, their various applications in different fields also need to be understood.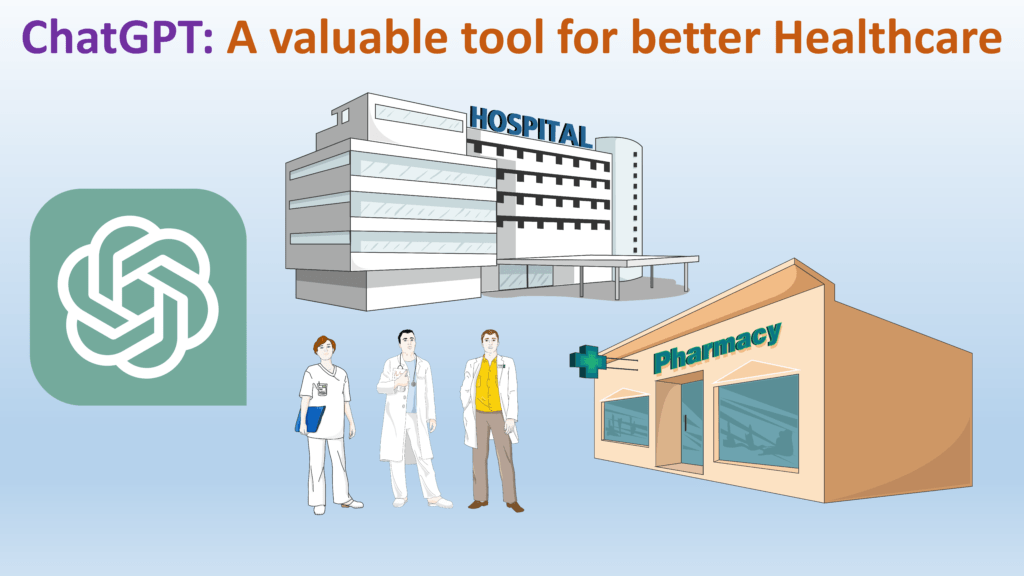 This article discussed how ChatGPT could be used in medicine or healthcare. It is very important to gain the knowledge about importance of overall health. Indeed, ChatGPT might open new avenue in this regards. The following are the applications of ChatGPT:
2. ChatGPT and Medicine/Healthcare
2.1. Providing Information on Public Health Issues
ChatGPT's potential to simplify the clinical workflow and contribute to cost- and time-savings in healthcare provision looks hopeful. ChatGPT, in addition with other Large language models (LLMs), has the potential to revolutionize the way of medical practice by improving diagnostics, disease risk prediction and prognosis, and discovering new drugs, among other translational research fields. Moreover, ChatGPT demonstrated good accuracy in identifying the imaging stages required for breast cancer screening and assessing breast pain, suggesting that it can be used in radiology decision-making.
By making health information readily available and understandable to the general public. ChatGPT has the potential to advance personalized medicine and also boost health literacy. It can also answers illustrated this usefulness by emphasizing the necessity of consulting healthcare professionals and other trustworthy sources [2].
2.1.1. Information on Diseases
ChatGPT can provide information on public health problems like infectious diseases, chronic diseases, and environmental health risks [3].
2.1.2. Information on Drugs
ChatGPT can provide real-time drug information, like adverse effects, drug interactions, and possible contraindications. Moreover, patients can communicate with ChatGPT using their natural language. It can provide accurate and timely information, helping patients make decisions about their medications. Besides, ChatGPT can also provide possible substitutions for patients allergic to or intolerant to particular prescriptions. Moreover, ChatGPT can provide information about the correct dosage, administration, and storage of medications. Healthcare professionals can use ChatGPT to remain up to date on new drugs, drug recalls, and other significant developments in the pharmaceutical sector [4].
2.1.3. Information on Community Health Programs and Services
Chiefly, ChatGPT can provide information about the types of community health programs and services available, the populations they serve, and the specific health outcomes they aim to achieve. Additionally, it can offer details on the eligibility for obtaining these programs and services, the associated expenses, and the insurance options [3].
2.2. In Medical writing and documentation
ChatGPT can help healthcare professionals write and document medical reports, such as clinical notes and discharge summaries, by providing real-time suggestions and corrections. ChatGPT can also generate automated summaries of patient interactions and medical histories, which can help streamline the medical recordkeeping process.
Moreover, Doctors and nurses can dictate their notes using ChatGPT, and the model can instantly summarise important information like symptoms, diagnoses, and treatments. Using ChatGPT, medical personnel can extract pertinent data from patient records, such as lab or imaging reports [5].
A formal discharge summary can also be produced by ChatGPT (in seconds) by entering a brief of the specific information to include, concepts to expand on, and instructions to explain. Because the process is automated; therefore, it can reduce the burden on the physician, allowing more time to deliver patient care and seek training opportunities.
ChatGPT could also improve the quality of the discharge summaries, with previous literature showing discharge summaries written through traditional means often missing details. Patel and Lam recently illustrated this, emphasizing ChatGPT's capacity to generate effective discharge summaries, which can help ease the documentation burden in the healthcare industry [6].
Below is an example of how ChatGPT can make a discharge summary (from reference 6, Box 1).
Although the results of ChatGPT are very promising. But many problems must be solved before it can be used in clinical practice. Basically, ChatGPT relies on the data input, there is still a need for important data to be manually entered.
In the future, this problem will be overcome because data from the patient's electronic health record will be collected automatically. However, there are serious problems with this practice in terms of data control. Because AI has failed in the past when it was used in healthcare, causing patients to lose a lot of faith, care must be taken with how data is stored and accessed [6].
2.3. Health Promotion and Disease Prevention Strategies
ChatGPT can also provide examples and answer questions about health promotion and disease prevention strategies. For examples: 
(1) Healthy lifestyle choices:
Tell people about ways to encourage healthy lifestyle choices, such as regular physical activity, a healthy diet. It can also staying us away from harmful substances like tobacco and too much alcohol.
(2) Vaccination:
ChatGPT provide information about the importance of vaccination in preventing the spread of infectious diseases. ChatGPT can also answer questions about the types of vaccines available and their recommended schedules. 
(3) Screening and early detection:
ChatGPT can tell people how important it is to get regular screening tests, like mammograms and colonoscopies, to find diseases in earlier stage. 
(4) Risk factor reduction:
ChatGPT could provide information about strategies for reducing risk factors for chronic diseases. e.g. managing stress, controlling blood pressure and cholesterol levels, and avoiding tobacco and excessive alcohol consumption
(5) Environmental health:
ChatGPT can also provide information about ways to protect the health of the environment. For example reducing exposure to dangerous chemicals and pollutants. It also promoting products and practices that are good for the environment [3].
2.4. Miscellaneous 
2.4.1. Mental health support: It can give patients behavioral health support, including mental health screening, coping mechanisms, and connecting patients with resources for additional support.
2.4.2 Remote patient monitoring (RPM): This method is becoming increasingly popular for enhancing patient outcomes and lowering healthcare expenses. ChatGPT can be used to keep an eye on patients from distant by analyzing data from wearables, sensors, and other monitoring devices. This is a real-time insight into a patient's health state. On the basis of this data ChatGPT can notify healthcare professionals if a patient's condition worsens or other worrying trends emerge. This can aid medical professionals in taking quick action to avoid hospitalizations or other problems [7].
2.4.3. Patient triage: By asking patients questions about their symptoms and medical background. ChatGPT can be used to triage patients by determining the urgency and seriousness of their condition [8].
2.4.4. Clinical trial recruitment: Clinical trials are used to develop novel therapies and treatments for various medical conditions, but it is difficult to find participants for clinical trials. Through the analysis of vast amounts of patient data and identifying people who fullfill the trial's eligibility criteria, ChatGPT can locate prospective trial participants and clinical trial recruitment efforts can be made more effective, targeted, and efficient in reaching various groups [9,10].
3. Cons of Using ChatGPT in Public Health
Above all advantages, there are some disadvantages of using ChatGPT in public health:
(1) Limited accuracy.
(2) Bias and limitations of data.
(3) Lack of context.
(4) Limited engagement.
(5) No direct interaction with health professionals.

Altogether this article suggest ChatGPT could be use in Healthcare sector. Although, there is a need to improvement in certain cases like accuracy, biasness and limitation of data etc.

References
[1] OpenAI: Models GPT-3. [(accessed on 4th April 2023)]. Available online: https://beta.openai.com/docs/models
[2] Sallam, M., 2023, March. ChatGPT Utility in Health Care Education, Research, and Practice: Systematic Review on the Promising Perspectives and Valid Concerns. In Healthcare (Vol. 11, No. 6, p. 887). MDPI. https://doi.org/10.3390%2Fhealthcare11060887
[3] Biswas, S.S. Role of Chat GPT in Public Health. Ann Biomed Eng (2023). https://doi.org/10.1007/s10439-023-03172-7
[4] https://www.forbes.com/sites/bernardmarr/2023/03/02/revolutionizing-healthcare-the-top-14-uses-of-chatgpt-in-medicine-and-wellness/?sh=1d1bc2a76e54 (accessed on 4th April 2023).
[5] Khan, R.A., Jawaid, M., Khan, A.R. and Sajjad, M., 2023. ChatGPT-Reshaping medical education and clinical management. Pakistan Journal of Medical Sciences, 39(2). https://doi.org/10.12669%2Fpjms.39.2.7653
[6] Patel, S.B. and Lam, K., 2023. ChatGPT: the future of discharge summaries? The Lancet Digital Health, 5(3), pp.e107-e108. https://doi.org/10.1016/S2589-7500(23)00021-3
[7] https://caresimple.com/benefits-of-remote-patient-monitoring-with-chatgpt/
[8] https://www.news-medical.net/health/What-does-ChatGPT-mean-for-Healthcare.aspx
[9] https://medcitynews.com/2023/03/what-role-could-chatgpt-have-in-clinical-trials-a-bigger-one-than-you-might-think/
[10] Baumgartner, C., 2023. The potential impact of ChatGPT in clinical and translational medicine. Clinical and translational medicine, 13(3). https://doi.org/10.1002%2Fctm2.1216